The museum and gallery sector has had a terse relationship with vagrancy and homelessness. It would appear that business proprietors are more probably to hose a homeless particular person off their steps than pay homage to them through an exhibition.
The Queensland Art Gallery I Gallery of Modern Art (QAGOMA), however, frequently displays Evicted (1887) by Blandford Fletcher. It depicts a mom and daughter, paltry possessions in tow, exiting their former residence with deprecating looks from remaining residents. Former curator of International Art at QAGOMA, David Burnett, says that although social realism 'fell out of favour' after the Victorian Era, this painting has important forex in gentle of the housing crisis that has befallen Australian society, and some teams particularly. A 2020 research by the Housing for the Aged Action Group (HAAG) showed that 405,000 girls over the age of 45, in particular, had been shown to be susceptible to homelessness.
Homelessness Week is held in Australia from 7-13 August this 12 months. While arts-based research using photovoice has been used since the 1990s to spotlight the views of homeless ladies. A prime instance was the Health Home Hope challenge by University of Queensland (UQ) researchers, which culminated in an exhibition of images taken by members in April 2023 at Vacant Assembly. Another participatory artwork venture participating the homeless will be offered this August on the Waterside Pavilion by the City of Hobart's Housing with Dignity Reference Group. Yet, gallery-goers are seldom confronted with this salient but apparently unsavoury concern.
While some artworks will not be explicitly about vagrancy, there is historic precedent of homeless artists being celebrated by the sector. The intermittent vagrancy of Vincent van Gogh was a reflection of psychiatric illness as much as poverty. While the transition from the gutter to the Guggenheim made by Jean-Michel Basquiat might replicate a shift in race relations. During his adolescence, the US painter of Haitian and Puerto Rican descent lived out of a cardboard box in a park in New York City. Similarly, Tracey Emin of the YBAs (Young British Artists) experienced homelessness on the top of second wave feminism within the early 1960s.
Each played pivotal roles in piercing the sanctified art areas of their times. In addition to diversifying the narratives represented, this allowed the introduction of new expressions and a democratisation of the materials sourced to make art. The relevance they achieved strengthened the establishments that, arguably, continue to shun their demographic as an audience.
Whether by happenstance or design, a selection of Australian artists are bringing the plight of homeless girls onto hallowed gallery floor.
Karla Dickens Embracing Shadows at Campbelltown Arts Centre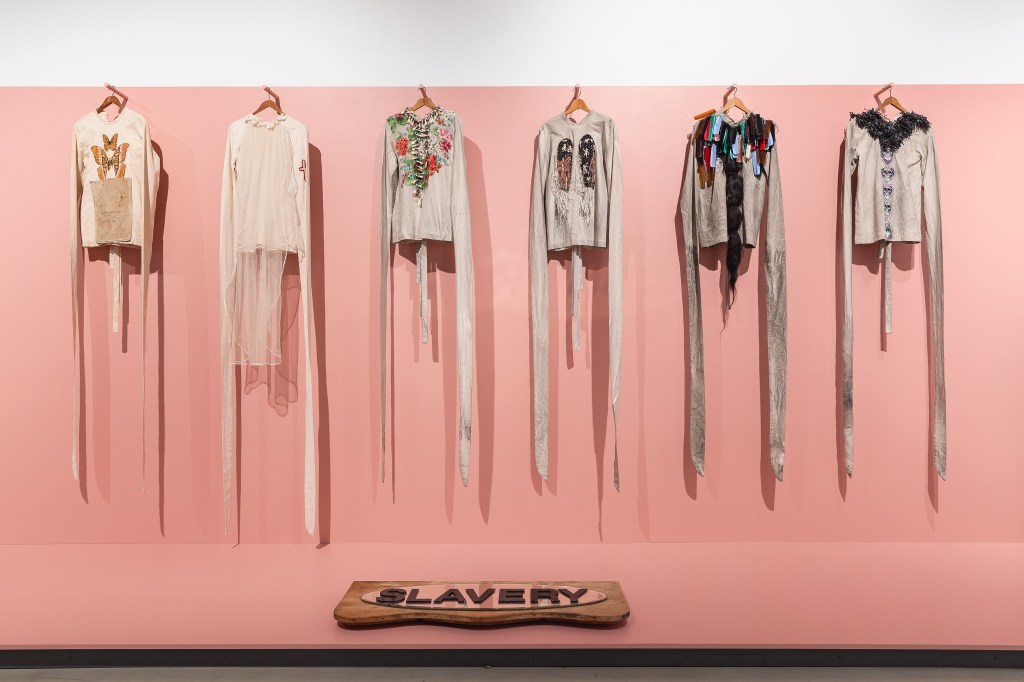 Karla Dickens, 'Bound' (2015), canvas straitjackets with combined media, polyptych – six items, dimensions variable. Powerhouse Collection, purchased with funds from the MAAS Foundation 2017. Installation view, 'Karla Dickens: Embracing Shadows', Campbelltown Arts Centre, 2023. Courtesy the artist and STATION. Photo: Document Photography.
This year commenced with a significant survey of artworks by Karla Dickens on the Campbelltown Arts Centre. It featured Bound (2015), a mesmerising sequence that speaks of entrapment. The six straitjackets are appliquéd with an assortment of objects, from a cow's teeth to a vintage marriage ceremony veil.
The self-proclaimed "displaced" queer Wiradjuri artist tells ArtsHub: 'The straitjackets focus on domestic violence… One of the works talks to the love of a home being one purpose women will stay in a violent relationship… [another] work speaks about financial abuse, staying put for the stake of youngsters and the concept that marriage is a life sentence.'
There can be a straitjacket suggesting dependancy is another reason ladies might stay in abusive relationships. Dickens crafts with an Arte Povera aesthetic to investigate these concepts. 'On [the] straitjacket looking at habit, I discovered all of those rubber King Kong toys from a facet show, which I have sewn on,' Dickens says. '[I was] considering of the saying "a monkey in your back".'
Dickens left residence at the age of 13 and is presently raising a teenage daughter on her own. Her long-standing commitment to the homeless was reflected in a series of portraits exhibited within the 2014 TarraWarra Biennale. Built using baseball masks as foundations, the set of sculptures You Winsome, You Lose Some (2013) culminated out of a collaboration with shoppers of the Winsome Hotel, aka the Lismore Soup Kitchen. 'In the 1990s, I did workshops creating murals at a Sydney refugee and drop-in centre [for] homeless girls,' Dickens says. 'Creating artwork from discovered objects is a superb device to introduce to anybody who isn't cashed up… Art doesn't should be a rich sport.'
Read: Radical entry: the way ahead for access in the arts
Blair Garland There's No Place Like Home at Pine Rivers Art Gallery
Pine Rivers Art Gallery is showing There's No Place Like Home (2023) by artist and curator Blair Garland. The short movie was awarded Highly Commended in the Moreton Bay Region Art Prize. For the past two decades, Garland has been facilitating initiatives with groups numerous in ages, abilities and cultures, and on this occasion gives a voice to the homeless.
The multidisciplinary artist and feminist says, 'We have had three people pitched in a tent in our backyard… One individual stayed an entire 12 months.' On women experiencing homelessness, Garland adds: 'Recently we offered emergency accommodation for a young Ukrainian lady refugee who had PTSD (post traumatic stress disorder) and was suicidal.' Within Garland's family, her 83-year-old mom was evicted from the rental home she'd lived in for five years.
'The Airbnb she discovered is unaffordable for long-term residing and in six months she must transfer once more,' Garland tells ArtsHub.
For There's No Place Like Home, Garland recreated an iconic scene from the MGM studio 1939 technicolour traditional, The Wizard of Oz. It depicts the protagonist Dorothy clicking the heels of her "ruby slippers", while chanting the phrase from which the art work takes its title. Garland donned the purple sneakers she 'found in an op shop and glued the sparkles on to them'.
However, on this silent reinterpretation, Dorothy's sparkly red sneakers appear dysfunctional as she repetitiously hits her heels collectively. The tapping gesture becomes a strained scraping of sequins, dislodging some in the course of. 'In my own life, I have lived in 32 homes thus far,' Garland says. 'Our houses give us an phantasm of permanency… in actuality they are fragile structures which may be short-term and vulnerable.'   
Karen Stone in Rearranged: The Art of the Flower at Museum of Brisbane
In November 2023, the response of Karen Stone to her struggles to secure a home will feature within the group exhibition Rearranged: The Art of the Flower on the Museum of Brisbane. Visitors will be invited to navigate a collection of six monumental panels of floral handmade paper. Each is individually titled, with the emotive names together with Blue roses… the paralysis of perfection and Roses on teacups… raspberry ripple biscuits. The receptacles of Stone's reminiscences serve as investigations into stereotypes of femininity and domesticity.
The distinguished paper artist says: 'The flowers turned a metaphor for the social situations and the familial situations I had as a child.'
She continues: 'To be pleased, as a result of I am a girl, I have to be married… So I all the time felt there was something incorrect, because I didn't secure a contented relationship and I didn't have a safe home.'
Read: Housing disaster pushes artists to the brink … of creativity
Stone began creating her unique adaptation of wove papermaking – a European style where pulp is strained utilizing a woven mesh – whereas endeavor her Bachelor of Visual Arts at Southern Cross University between 2008 and 2012. She applies the pulp 'in a painterly way' to the floor of horizontally suspended silk screens. Over a interval of months, Stone makes numerous revisions and repairs to the work earlier than lastly peeling off the residual paper.
Her vibrant palettes are constructed from cotton and linen clothes, many sourced from op retailers or gifted from family and friends. This materials is then macerated, much like how rags had been collected for repurposing into paper in 14th century Italy. For her Master of Visual Art Research, Stone used the Hollander beater machine at the Queensland College of Art to create this series. The labour-intensive process instills a 'human presence inside the paper,' she says.
Each artwork is a locus of discovery. Over time Stone realised 'the colors reminded me of homes – the way in which that the flowers had been drawn, the finest way that the petals unfurled'.
'It had a sure illustration of the 1950s and 1960s,' she provides. Wallpapers, upholsteries and tea towels belonging to her mother and her grandmother were amongst her inspirations.
She continues on this notion of the house: 'To be married and to own your personal home … it was based on Robert Menzies' concept after World War II: the Great Australian Dream.' The artist believes this idea lives on and manifests in 'the basic things, [for example] males are paid more than women', she says. Subsequently ladies, 'single, for instance, like me [who were not] encouraged to go to college [and as a consequence] had lots of low-paid jobs, face issues with housing security and with the flexibility to afford the rent.'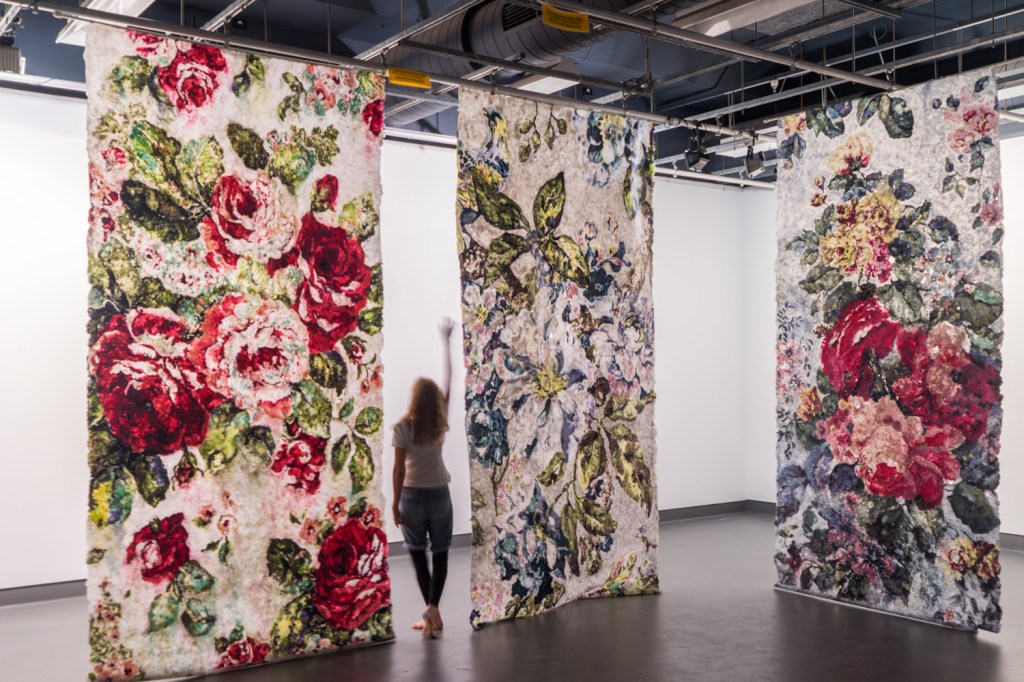 Karen Stone investigates the barriers to finding a house confronted by older Australian ladies by recycling clothes into monumental panels of handmade paper. Image: Supplied.
Giving a voice to women at threat of homelessness
The beautiful barriers fashioned by Stone from rags speak to explanation why a house might prove allusive. The visceral accounts by Dickens by way of verbal and visible texts convey the additional elements confronted by First Nations women and single mothers in Australia. The looped brief film by Garland demonstrates difficulties many women can face in breaking this entrenched cycle.
While there isn't any magic fix to a scenario that's purportedly worsening, dialogue about impoverished ladies within areas historically reserved for the wealthy, is a step ahead.
Karla Dickens Embracing Shadows was on view at Campbelltown Arts Centre from 3 January to 12 March.
Moreton Bay Region Art Prize 2023 with work by Blair Garland is on view at Pine Rivers Art Gallery to 19 August.
Rearranged: The Art of the Flower, that includes paper by Karen Stone, might be on view at Museum of Brisbane from November 2023.
This article is printed under the Amplify Collective, an initiative supported by The Walkley Foundation and made potential through funding from the Meta Australian News Fund.